The Ultimate Tame Your Paper Collection
Everything you need to get started…
Questions to ask yourself so you'll know exactly what to keep and what you can toss
A list of what to shred so you keep your sensitive information safe
Step-by-step instructions and a plan to keep the paper from piling up
Community
Organizing Fun Club
Join the Organizer Fun Club Membership for organizing tips, free printables, and checklists, bi-monthly co-working sessions, community support, and accountability to get your organizing projects and tasks done (or started!).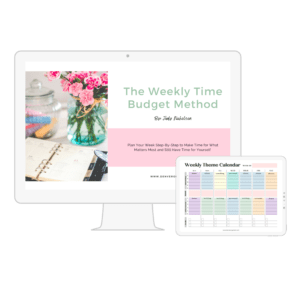 My Weekly Time Budget Method
Plan Your Week Step-By-Step to Make Time for What Matters Most and Still Have Time for Yourself!
A workshop to learn how I plan my week
Your Paper System Course
Discover the system that will get your paper game from chaos to calm!
A 4-Module Course to Teach You a Simple Paper Organization System